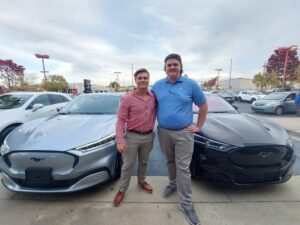 Teens: have a chance to win prizes if you join SafeAmerica's 'S'mile Project!' The project stands for SAFETY + MILES = S'miles. And, if a teen is the 'highest' driver [who drives 100 to 200 miles PER Month over 10 months (September – June)], you can have a monthly opportunity to receive a meal, some gas or movie tickets – plus car wash or oils for your car!!
To learn more, call SafeAmerica at (770)-973-SAFE. And send each month your initial mileage (of the car you'll drive each month) to register@safeamerica.org. During this first month, you can send in how many miles you drive in September (showing you drive 25-50 miles per week… roughly 100 to 200 miles per month).
In July, 2024, we'll give all teens who've 'S'miled' during September – June and then compete in our Ford Mustang EVs. SafeAmerica thanks to Cobb EMC Foundation plus Georgia PSC Commissioner Tim Echols and Ford Motor Company's Andrew Simmons for their support of our 'electric vehicle' (EV) cars… and how were advancing safety for the 'future drivers' who will be using EVs more and more over the next decade.